An
earl
is a member of the high
nobility
usually with ties to Royal blood. The title is
Anglo-Saxon
, akin to the
Scandinavian
form
jarl
, and meant "
chieftain
", particularly a chieftain set to rule a territory in a
king
's stead. In Scandinavia, it became obsolete in the
Middle Ages
and was replaced with
duke
(
hertig
/
hertug
). In later medieval Britain, it became the equivalent of the continental
count
(in England in the earlier period, it was more akin to
duke
; in Scotland it assimilated the concept of
mormaer
). However, earlier in Scandinavia
jarl
could also mean sovereign
prince
.
For example, the rulers of several of the
petty kingdoms of Norway
had in fact the title of
jarl
and in many cases of no lesser power than their neighbours who had the title of king. Alternative names for the "Earl/Count" rank in the nobility structure are used in other countries, such as Hakushaku during the Japanese Imperial era.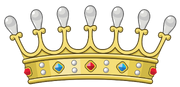 Count (male) or Countess (female) is a title in European countries for a noble of varying status, but historically deemed to convey an approximate rank intermediate between the highest and lowest titles of nobility.[1] The word count came into English from the French comte, itself from Latin comes—in its accusative comitem—meaning "companion", and later "companion of the emperor, delegate of the emperor". The adjective form of the word is "comital". The British and Irish equivalent is an earl (whose wife is a "countess", for lack of an English term). Alternative names for the "Count" rank in the nobility structure are used in other countries, such as Graf in Germany.
In the Princeiplaity of Lyonesse there several types of designated Eardoms, Counties, and such.  There are Noble Earls and Counts, those with honorary Titles, and regional Titles that honor a particular Family or Tribe's members.  Those listed here are those within the Great Noble Tribes of Lyonesse, sons and daughters of Royals and Noble Houses, and those of the Nine Royal Tribes of Lyonesse.
Earldoms
Counties